A Stay-At-Home Mother is...
It's not about that monthly pay cheque.
It's not about the collection of academic certificates you worked hard for.
It's not about shopping for power office attire or work appropriate clothes.
It's not about following SOPs (Standard Operational Procedures).
It's not about climbing the corporate ladder and vie for that corner room next to the Managing Director.
It's not about the government subsidies for the kid/kids.
It's not about the best childcare or the best school for the little ones.
It's not about bringing them to the fanciest restaurant or mall on the weekends.
It's not about providing material needs and giving material wants.
It's not about asking "So how was your day today sweetheart?"
It's not about giving your parents/domestic helpers instructions on how to deal with the kid/kids.
It's not about giving in to their temper tantrums because you feel guilty.
It's not about showing off your independent child to family and friends.
It's not about bringing the kid/kids to fabulous holidays halfway across the globe.
It's not.
----------
It's about being there for your child's "first" (first smile, first walk, first clap, first frown, etc)
It's about cooking a nutritious meal with all your love for your child and making sure (or forcing it down their throat) they eat it ALL up.
It's about the very first emotion when you have to send your child to school and leave him/her there for that very first day.
It's about sitting next to your child and watching their favourite "oh-it-doesn't-make-much-sense-to-me-at-all" cartoon.
It's about hearing your child saying "I-Love-You-Mommy" at the most random time of the day.
It's about watching them falling asleep and looking at their innocence from our point of view, literally.
It's about answering their "whys" and "hows" and seeing them looking at you suspiciously, wondering if you're really answering their question.
It's about keeping the house clean for your precious child to grow up in.
It's about teaching them how to wear their shoes or tie their shoelaces.
It's about communicating with them at their level.
It's about reading stories to them, teaching them the morals behind each and every story.
It's about watching them dance to the Gangnam Style (or Harlem Shake, isit?) and laugh your guts out cos' it's just too hilarious.
It's about taking candid pictures / videos of what they're up to, whether at home or out.
It's about looking like a hot mess in front of the kids and not being judged (at least for once), maybe the kid will make a joke out of it at that moment.
It's about the occasional white lies you tell your kids in order to get things done, like drinking warm water to "kill all the germs in your body". U get the idea.
It's about looking at them wondering what they would become when they grow up.
It's about alot of other things.
----------
I couldn't handle the thought of staying at home and be with Sophia after giving birth. All I wanted to was to get back straight to work. I love my child, no doubts about it. I want to be there for her. I want to watch her grow up. I blogged about this last month so click
here
to read.
We are mothers. We have mothers too, right? Same goes to our politicians. They have mothers too. Should they, for once, look at their mothers and recall how hard they worked to bring them up to be who they are today? Some of their mothers may not be SAHMs like us. Not all of them were born with a silver spoon stuck in their mouth. LKY's father was a cobbler. He wasn't born rich. His parents were blessed with an intelligent child, that's all. Who knows our kids can be future politicians? We won't know. But at least for now we nurture them to be well-mannered with their morals and integrity in check. Having a mountain high of academic qualifications/achievements doesn't make one the best in the business. Has anyone openly, publicly thank Stay-At-Home Mothers for their contributions to their families? Mind you but we have no off days, can't take medical leave, no hospitalisation benefits, no CPF, Medisave contributions, no Annual Leave, no 13th Month bonus, no nothing. Has any politicians ever provide us with a scheme to benefit Stay-At-Home Mothers? Oh, probably they can't because if they do, all the women in Singapore will be a SAHMs. Then the dominoes effect starts. It's a controversial issue which FTWM/WAHM/SAHM will have something legit to say about the choice they make.
In other parts of the world, daycare is expensive. So they have to look after their kid on their own. Reality TV shows like Jon & Kate Plus 8, 19 Kids and Counting and another one that follows a family with six autistic children. SIX! I sit back and think to myself.. "Wow, hands down.. I lose." I'm lucky (Thank God). I have one (for now) and even with baby #2 in the future, I will stay at home to look after my children. Friend & family ask me then what about all that I've achieved in the past, my papers, my knowledge, my experience, my LIFE? I answered them, "This is my life now, and I'm happy." What's more fulfilling to be there for the child you've created and watch them grow up to be useful individuals? Let's not look at how others educate their kids. We just take care of our own family, good enough. I won't be expecting my child to bow and kiss my feet twenty years from now and thanked me for all that I've done because my job will only be completed the day I'm nailed into my coffin and buried six feet under (hello Earthworm Jim).
We are not sitting at home shaking our legs and sitting in front of our laptops blogging away, ranting and raving about our life as a SAHM. We inspire other mothers and mothers-to-be that staying at home is not a bad thing after all. This is coming from me, who used to be afraid of staying home. It's been 2 months (only) for me as a SAHM. I'm getting into my routines, and I have 'me' time, for a couple of hours after my chores and while Sophia's in school. I have time for myself over the weekends when my mom is home and the only sad thing is my hubby is not home with us because he has to work overseas. Yes, I'm like a single mother, except I have a wedding ring!
These are sacrifices many mothers make for their kids. All we need is
appreciation & support
. We don't need bullshit statements about us "not contributing". We ARE contributing in our ways so open your pretty eyeballs and see, pull up your ears and listen to us. Look at your own mother and grandmother, and ask them how was it like to be mothers. The moment a woman is pregnant, her role as a mother starts. I'm not saying that if you are a working mom means you're not a good mother. Hey, I was a working mom too. We need to be financially ready all the time. You think I don't have my financial meltdowns? I do! But you just have to work it out. Work it like a pro!
So with whatever package government wants to set up for women to have children, it's only gonna work out for a short period of time. It's not a long term solution. I'm not "politically-savvy" but at least I know it's not gonna work for me. More needs to be done for SAHMs, as well as FTWMs and WAHM.. and start listening to us. Appreciate us for the sacrifices we made. We are not being lazy to just stay home. We have our duties to fulfil.
Helen Keller (1880-1968) who became deaf and blind when she was young, once said,
"The best and most beautiful things in the world cannot be seen or touched. They must be felt with the heart".
And that is, to me, is
to be the mother, not a mother.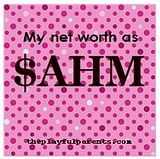 Pomaika`i,